SAFARIS BY DESTINATION
SAFARIS BY THEME
ABOUT US
Our Travel Blog
Get to know about the latest news, events and happenings in the East African tourism industry. Share with us your on our travel blog
SAFARI PLANNER
CYCADS CAR HIRE
BIG FIVE SAFARIS IN AFRICA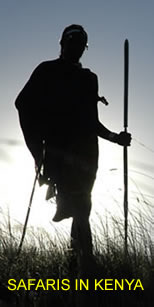 ....Dream, Explore, Discover......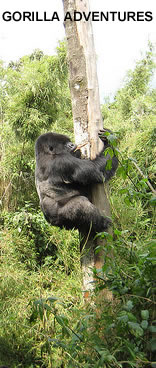 Uganda Tour- Chimps & Gorilla Tour (5 Days)
TOUR ITINERARY
Day 1: Depart for Kibale Forest
Drive early in the morning approximately 6 hours to Kibale Forest National Park, the park with the highest concentration of Primates with over 10 primate species counted including the black and white colobus, red colobus, L'Hoest's monkey, the Chimpanzees among others. This is the best spot in the world to view the closest cousins of Human beings, the chimpanzees that are believed to be 98% human. Overnight at Ndali Lodge/Primates Lodge/Rwenzori View Guest house

Day 2: Chimpanzee Tracking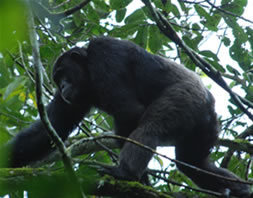 Report to the ranger station in Kibale Forest National Park at 8am after breakfast and there after, enter the forest to track the habituated chimps. In the forest are, a network of shady forest trails which provide much pleasure to botanists and butterfly lovers. The forest boosts a total 335 species recorded. The elusive forest elephant is sited moving seasonally in the forest. Other terrestrial mammals in the forest include; the giant forest hog, buffalo, plus a half dozen of antelope species. After this delightful experience, return to the Lodge for relaxation, in the afternoon, if you have energy, go for a walk in the Bigodi Wetland Sanctuary with an opportunity to see a diversity of birdlife.
Overnight at Ndali Lodge/Primates Lodge/Rwenzori View Guest house
Day 3: Kibale Forest – Bwindi Impenetrable National Park
After breakfast, drive to Bwindi Impenetrable National park which is approximately 6 hours drive to the park that hosts over half of the world's remaining population of the Mountain Gorillas. The park also inhabits about 348 bird species with the park hosting about 24 of the 26 Albertine endemics found in Uganda. Overnight at Gorilla Forest Camp/Gorilla Resort/Buhoma Community Bandas
Day 4: Gorilla Trekking in Bwindi Impenetrable National Park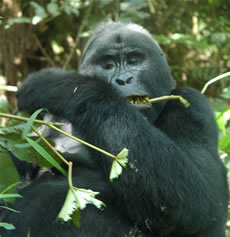 After a hearty breakfast, report to the ranger station at 8:00 am and enter the gorilla sanctuary with the ranger guides for the most interesting activity in the world, Gorilla Tracking. The tracking activity takes between half an hour to about 5 hours thus, a steady pair of walking shoes is recommended as well as a reasonable degree of fitness. Sit in the dense rain forest for an hour hearing these delightful mountain gorillas grumble at each other. Return to the Lodge and if you have the afternoon free, take a guided nature walk in the Forest. Overnight at Gorilla Forest Camp/Gorilla Resort/Buhoma Community Bandas
Day 5: Bwindi Forest – Kampala.
After breakfast, drive back to Kampala with a stop en route for lunch as well as stopping to take photos at the Equator, shop for curios and have an informative talk before proceeding to Kampala.
END OF THE GORILLA TOUR
BOOKING AN AFRICAN SAFARI WITH US
To book our Safaris and Holidays, You can send us your inquiry through info@cycadssafaris.com or by filling out the short booking form. You can as well make your safari booking by calling our Tours and Travel Desk through +256772507241. For free travel advice, inquiry or request for further information about our safaris, travel information, safety and security you fill out the Inquiry Form or call our helpline +256-414-573775
Cycads African Safaris - Tours in Uganda, Rwanda, Kenya, Tanzania and Sudan.
GORILLA SAFARIS
WILDLIFE SAFARIS
DISCOUNTED TRIPS
BUDGET UGANDA TRIPS
SAFARI TESTIMONIALS
Safari Testimonies-..deep and warm thanks to Cycads African Safaris for organizing the most magnificent, beautiful, educational, amazing, fun, inspriring, exciting African Safari of my lifetime....Lewton AJ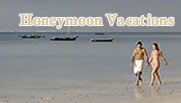 AFRICAN GAME PARKS
TRAVEL INFORMATION
TOURS FOR 2012